Meet the County Coordinator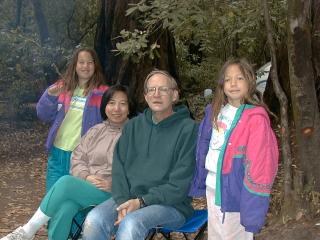 (with family in Big Basin Redwoods State Park, California)
A most sincere welcome to all visitors to the Lincoln County, Missouri USGenWeb site. We hope you will enjoy browsing around the site, and that you'll find some useful information while your here. Don't hesitate to drop me or our Co-Coordinator, Patricia SummersSmith, a line if you have any questions or comments about the site.
---
Page last updated Saturday, 22-Mar-2008 07:38:03 MDT
You are the [an error occurred while processing this directive] visitor to drop by since 11/14/1999
Thanks for dropping by to say hello!
[HOME] [What's New!] [County Records Info] [History] [Surnames]
[Cemeteries] [Queries] [Lookups] [Heritage Records] [Heritage Photos]
[Research Guide] [Links] [Search Options]