This file and photo submitted for USGenWeb/MOGenWeb Lincoln County Heritage Pages by June Groshong, 8 January 2007. Link change or update: 26 Feb 2007
---
History of Bryants Creek Baptist Church
established 1831
From my neighbor, Mrs. Wm. nee Gentry Luck 1831-1948
BRYANTS CREEK BAPTIST CHURCH
Through the discovery of the minute books of the Bryants Creek Primitive Baptist Church, which were held and cared for by Mrs. Iris Presley, Foley, Missouri, we were able to piece together some unknown history of Stouts Settlement or Union Church. These Bryants Creek minutes start with the formation of the church, in 1831, and continue until the church disbanded in 1948, at 117 years of age. This too can be considered one of the pioneer churches of Lincoln County.
"We the undersigned ministers of the Gospel do certify that we constituted the forgoing named persons, a Baptist Church of the Lord Jesus Christ, at the meeting on the waters of Bryants Creek, in Lincoln County, State of Missouri, on the 14th day of June in the year of our Lord, one thousand eight hundred and thirty one."
Signed Darius Bainbridge
The names of the constitutional members of Bryants Creek Church were William Wells, Mildred Wells, Francis Wells, George W. Zimmerman, Margaret Zimmerman, Thomas E. Wells, James T. Dameron, Hayden Wells, Coartney Wells, George Briscoe, Ira Zichenor, Sophie Zichenor, Rachel of Zimmerman, Mary of Wells, Rachel of Wells, and Nancy of James Stallard.
There were twelve white persons and four slaves. Some of the persons, who united with Bryants Creek in 1831, but were not constitutional members were; William Sitton and his wife Anna, Jack belonging to William Wells, Betsey belonging to H. Grimes, Phillip T. Wells, Walter S. Cooper, Diana Sitton and Steven Hopkins. It is not known, as to how many of these individuals were from Union Church, but some, if not all were persons who were dissatisfied with the direction of the Union Church.
As there was no difference in the doctrine of the two churches, at the time of the split in 1831, there is no reference in the Articles of Faith, to any doctrine on which they might disagree. These two churches were so closely related on doctrine, that shortly after Union Church had selected Elder Ephraim Davis, as their pastor, Bryants Creek also selected him in 1837 and he remained pastor of both churches until his death in 1851. There is no mention of his death in the minutes, but he was the preacher of record, for Bryants Creek, on friday August 16,1851 and was not mentioned afterward.
[Transcriber's notes: I paraphrased some of this from the Mar. 27, 1985 Elsberry Democrat. jg.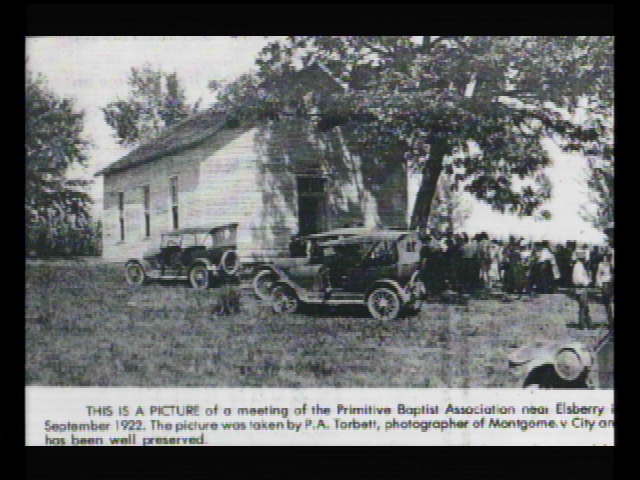 Pix of Primatve Baptist Association near Elsberry in Sept. 1922 . This picture was brought into the Elsberry Democrat by Elliott Jones of Paris, Mo. He had been sorting out pictures and delivered it to Elsberry Democrat. The Democrat's Editor questioned her 98 year old aunt, Grace Long and learned it was the church which stood on the north side of Hyway B. just east of what is now the Henry Hagemeier's lane which was torn down many years ago. The Editor learned that her great-grandmother, Mrs. Mordecai R. ( Mary Ammanda Hammack) Watts was an active member of the church.
another note : A lady from St. Louis working Morris-Watts History went to the Elsberry area in the 1970s and saw some of the tombstone from the Mordecai Watts and family which had been destroyed in the name of progress. It was heart breaking. jg.
Mrs. Luck has it as :BRYANTS CREEK BAPTIST CHURCH ]
---
Return to USGW/MOGW Lincoln County, Missouri
History Page | Lincoln County Cemeteries | Home Page
You are the [an error occurred while processing this directive] person to visit this page since 2/26/07.
Thanks for dropping in to visit our Lincoln County church!
---
This file and photo submitted for USGenWeb/MOGenWeb Lincoln County Heritage Pages by June Groshong, 8 January 2007. Link change or update: 26 Feb 2007

USGENWEB NOTICE: In keeping with our policy of providing free genealogical information on the Internet, data may be freely used for personal research and by non-commercial entities, as long as this message remains on all copied material. These electronic pages may NOT be reproduced in any format for profit or presentation by other organization or persons. Persons or organizations desiring to use this material for profit or any form of presentation, must obtain the written consent of the file submitter, or their legal representative, and contact the listed USGenWeb archivist with proof of this consent.
---