File submitted for USGenWeb/MOGenWeb Lincoln County page by Howard R. Watts, 9 Sep 2001. Link change or update: 6 Oct 2001
---
Richard H. Martin Family Records
---
Contributor's comments: I am the great great grandson of Richard H. MARTIN. All of these people and their families lived in Lincoln Co. Missouri with the earliest being born there in 1826. I have postively identified 6 of them and tentavely two others. I would like to know the names of the other people in the picture. The number preceeding a name is the picture number.
---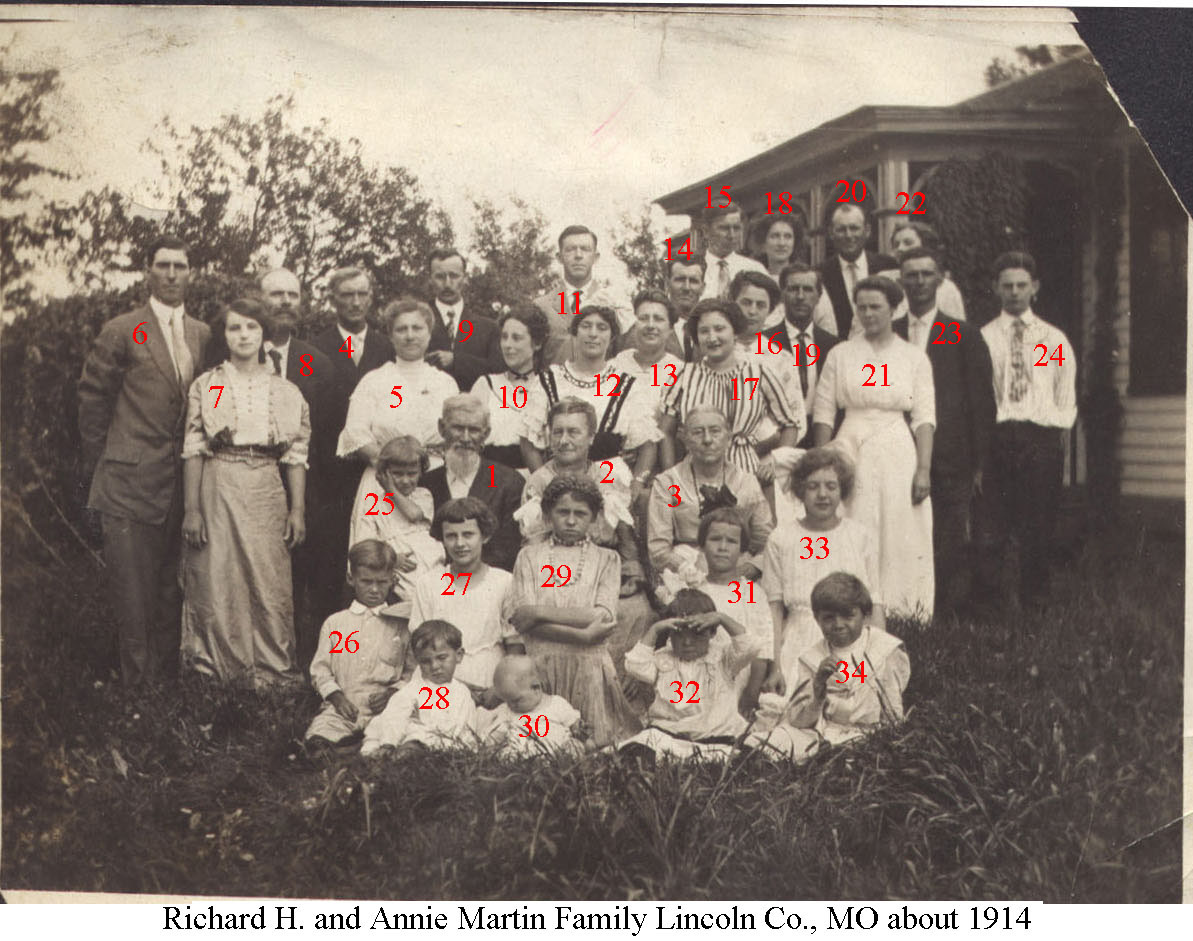 1

- Richard Hamilton MARTIN born 11 April 1841 Rutherford or Cannon Co., TN, father Lewis (Louis) Graves MARTIN, mother Alice (Alley) CONN , see Lewis G. MARTIN Lincoln Co.

2 - Analizan "Annie" Eliza MCCORMICK born 23 Apr. 1851 Lincoln Co., MO. Father John Franklin MCCORMICK born 1822 VA, died May 1882 Lincoln Co. MO. Mother Evaline Elizabeth JAMISON born 1826 Lincoln Co., MO died Jan 1899 Lincoln Co., MO.

Annie MCCORMICK married Richard H. MARTIN Oct 29, 1868 Lincoln Co., MO. They had the following children (all born in Lincoln Co, MO):
Lewis Franklin born 22 Aug 1869,
5 - Lula Isabell born 24 Nov. 1871, died 12 Jan. 1958 Lincoln Co., MO,
Luther L. born 24 Aug 1874,
Joseph Thomas Avery "Joeave" born 1 Aug. 1881,
Mary Susan "May" born 30 May 1888,
Annie Hamilton 1 Nov 1893 (died at birth).

Annie and Richard H. MARTIN lived in Lincoln Co., MO until their deaths. Richard was a farmer.

5 - Lula Isabell MARTIN married 4 - Robert Lee WATTS 24 Feb 1899 Mexico, MO.

4 - Robert Lee WATTS born 9 July 1864 Lincoln, Co., MO, died 1961 Lincoln Co., MO.
Father Johnson WATTS born 1827 NC, died 1907 Lincoln Co., MO.
Mother Mary Jane DAVIS born 1826 KY, died 1885 Lincoln Co., MO.
Robert was the 5th of 7 children born to Johnson and Mary Jane DAVIS WATTS.
The children of Robert L. and Lula Isabell WATTS were:
6 - Howard Lee born 21 Aug 1890 Lincoln Co., MO died Dec. 1982 Fulton, MO,
Louis MARTIN born 24 July 1892 Lincoln, Co., MO, married Grace CUNNINGHAM 1913 Lincoln, Co., MO
10 - Nellie Eva born 29 Sept. 1894, 1st married 11 - Herbert H. RICHARDS 1915,
2nd married Tom SULLENGER 1933. The identification of pictures 10 & 11 are questionable.
Annie Mary born 17 Sept. 1897 Lincoln, Co. MO.
Robert was a farmer. Lula worked for the railroad for much of her life. They moved to La Junta, CO in 1917. Robert farmed and Lula was a railroad block operator for 12 years. They moved from La Junta to Canon City, CO and opened a grocery store. Three years later they moved back to MO planning to retire. The loss of all their savings in the depression forced them to go back to work. They operated a store in Richfield, IL for 9 years. Then returned to Elsberry, MO in 1943 where they retired.
6 - Howard Lee WATTS married 7 - Amelia ARNOUVILLE 15 June 1912 Hamburg, Avoyelles Parish, LA.
7 - Amelia ARNOUVILLE born 11 Aug 1894 Hamburg died Jan. 1989 Fulton MO, Avoyelles Parish, LA, dau of Emile ARNOUVILLE born 1869 LA and Martha E. MATHEWS born abt 1871 LA.
Howard went to LA in 1911 to work in the lumber business. He met and married Amelia. They returned to Elsberry Lincoln, Co., MO after the birth of their first child in 1913. In 1917 they moved to Colorado with Howard's parents. They had a homestead near La Junta for several years. Their second and third sons were born on this homestead. Later Howard went to work for the railroad. In the late 1930s they moved back to Elsberry, MO. In 1953 they moved to LA living near their youngest son. After 10 years they moved to Fulton, MO to retire and live near one of their other sons.
Sources:
Family records collected and maintained by Howard Lee Watts and passed on to Howard R. Watts
Marriage records for Lincoln Co. & Audrain Co.
Federal Census records
Records form other descendents or relatives Richard and Annie MCCORMICK MARTIN
---
File submitted for USGenWeb/MOGenWeb Lincoln County page by Howard R. Watts, 9 Sep 2001. Link change or update: 6 Oct 2001

USGENWEB NOTICE: In keeping with our policy of providing free genealogical information on the Internet, data may be freely used for personal research and by non-commercial entities, as long as this message remains on all copied material. These electronic pages may NOT be reproduced in any format for profit or presentation by other organization or persons. Persons or organizations desiring to use this material for profit or any form of presentation, must obtain the written consent of the file submitter, or their legal representative, and contact the listed USGenWeb archivist with proof of this consent.
---
Return to USGW/MOGW Lincoln County, Missouri:
Family Record Index - Bible Record Index - Wills Index | Heritage Page | Home Page