File contributed for use on USGenWeb/MOGenWeb Lincoln County Heritage Page by Linda Peronto, Brenda Coon, 5 December 2004. Link change or update: 5 Mar 2005
---
Joseph Koster Family - From the collection of Brenda Coon
---
Editor's Comments: The text that follows includes transcriptions of original records by the contributor as well as compiled information from the contributor's research. Transcriptions from original records appear below in normal text. Information from the contributor's own knowledge or research is shown as italicized text, and set off by square brackets.
Obituary Troy Free Press - Friday, February 27, 1885. :
Joseph Kouster, near West Cuivre Died on the 18th inst. The deceased was aged 95 years and had been confined to his house for some time. The body was interred at the Catholic cemetery.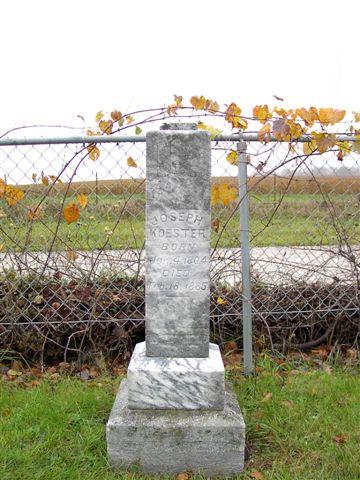 [ Joseph Koster was born 1804 in Hanover, Germany - d. 18 Feb 1885 Millwood, Lincoln County, Missouri.
Burial: St. Alphonsus Catholic Church Cemetery (spelled Koester on tombstone)]
Source: State of Missouri, County of Lincoln - Marriage records:
This is to certify that I joined in matrimony on the 10th day of September 1848 Mr. Joseph Custer & Miss Sarah Lafferty of Lincoln County, Missouri and both of lawful age.
William D. Hall J.P.
Recorded 2nd October 1848 - Thomas G. Hutt Recorder.
[ Sarah Jane Lafferty b. 10 Sept 1833 Virginia - d. 10 Mar 1912 Millwood, Lincoln County, Missouri, burial in St. Alphonsus Catholic Cemetery.
Children of Joseph Koster and Sarah Jane Lafferty - all born in Lincoln County, Missouri:
1. Mary Catherine Koster born 28 Jun 1850 d. 16 Jan 1941 Ripley County, Missouri - m. David Crawford Terry 20 Feb 1869 Lincoln Co., MO. ]
Church Records from St. Alphonsus Catholic Church - Baptismals
Mary Catherine baptized September 3, 1850, I the undersigned baptized M.C. daughter of Joseph Custer and Lerah Jane Rafferty born June 28, 1850. Sponsor: Clara Mudd. Priest: Robert Wheeler.
Obituary:
The Prospect News…….Thursday, 23 Jan 1941
Died: Mary Catherine TERRY, age 90 years, 7 months and 8 days. died at the home of her son John TERRY in the Plunk area last Thurday. Born Lincoln Co. MO and lived in Ripley County about 40 years. Buried Saturday at Amity cemetery with Elder A. A. TAYLOR officiating. Leaves three sons: John of Ripley County, Joseph of Houston, Texas and James D. TERRY of Dexter. Also leaves two daughters: Mrs. Sarah Kane, Oxly and Mrs. Lucy Pulliam of Ponder. Also one sister, Mrs Lucy Howell of Silex.
[ 2. Joseph A. Koster born 20 Jan 1851 ]
(Following is a church record. ed.)
Joseph A. son of Joseph Custer and Serah Lafferty baptized June 21 1851 born January 20, 1851
Sponsor: Mary Mudd, Priest: P. Fleming
[ 3. Godfrey Koster 22 Jan 1852 ]
Obituary:
Koster, Godfrey son of Joseph & Sarah (Lafferty) 22 Jan 1862 - 6 Dec 1927
"Godfrey Koster, age 78 yrs, died suddenly at his home, near Warm Springs, Sunday morning (23 Mar 1930) The funeral was held Tuesday and interment was made in the Family Burying Ground near Shipmans. (Pratt Cemetery) Rev T H Sherrill, pastor of the Church of Christ in Pocahontas conducted the funeral service." PHS 27 Mar 1930
[ 4. Lucy Koster ca 1857
5. Josephine Koster born 1858 ]
Troy Free Press, Troy, Lincoln County, MO, Fri., August 25, 1939
Mrs. Josephine SAUERS Dies
Mrs. Josephine KOSTER SAUERS passed away at her home six miles north of Hawk Point, August 20, 1939 at the age of 80 years, eight months and six days.
She married August 17, 1886 to John Martin SAUERS. She leaves her husband and eight children:
Lucy SCHANNING of O'Fallon; Frank and Mary SILVERBERG of St. Charles; John E. of East St. Louis; Annie STUART and Sophie STENHOUSE of Troy; Lizzie LYNN of Louisiana; and Fred of Silex, twenty-one grandchildren and six great grandchildren.
Funeral services were held at St. Mary's Church by Rev. H. W. WIESMAN at nine o'clock Tuesday morning and burial was in St. Mary's Cemetery at Hawk Point.
[ 6. Lewis Koster born ca 1859
7. Bernard Anthony Koster born 19 Nov 1862 ]
(Following is a church record. ed.)
Bernard Anthony - On this day 28th March 1863 I have baptized Bernard Anthony, son of Joseph Custer and Serah Jane Lafferty was born November 19, 1862, Priest: E.O. Regan
[ 8. Malinda Jane Koster born 22 Mar 1865 ]
(Following is a church record. ed.)
KOSTER - July 9, 1865 I this day baptized Melinda Jane Koster daughter of Joseph Koster and of Sarah Jane Lafferty his wife born 22 of March 1865 about 2 o'clock p.m. Sponsors: John Menth & Margaret Menth, Priest: Thomas Cleary
The church records were submitted by Patty Jamerson Archer.
(photo of St. Alphonsus Cemetery, ed.)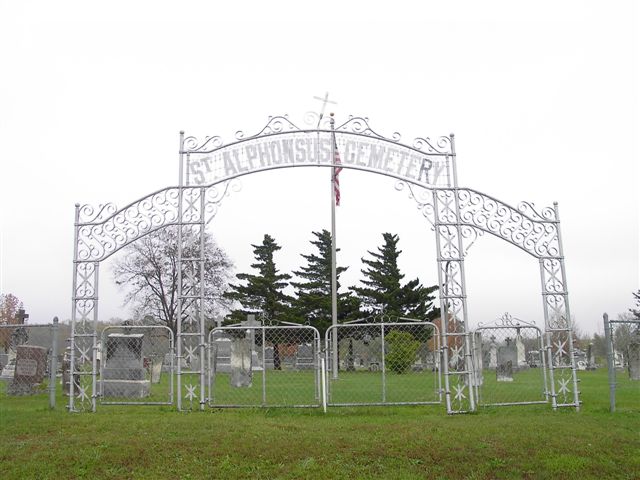 History of Millwood and St. Alphonsus Parish by Andrew Mudd - Millwood, Missouri. November 17th, 1927
The log church and the new parish was then dedicated and placed under the patronage of St. Alphonsus Liguori, the great moral theologian of the Seventeenth century. Eighty-five years have elapsed since the building of the first church, and we are able to give only a partial list of the heads of families who attended worship there.
Page 19: Then follows
Alonzo Edelen, Stephen Mattingly, Joseph KOSTER, Wm. Worland, and a few others.
Personnel of Millwood Congregation
We have always had a small but important German population during the growth of the parish, the beginning of which was probably the Meuths and the KOSTERS.
1850 U.S. Census Lincoln District 49 Roll: M432_404 Page: 432 Image: 329
#432 Joel Custer (Joseph) 40 Germany
Sally Custer 25 Virginia (Sarah Jane Lafferty d/o David Lafferty and Sarah Jane Verdier)
Mary C. Custer 1 Missouri
1860 Lincoln County, Missouri Census # 347 Bedford Twp Page 47, line 29 #324/354
Joseph Coster 57 cabinetmaker $400/$20 Hanover
Sarah L. Coster 28 Virginia
Mary C. Coster 9 MO
Jospeh A. Coster 8 MO
Godfrey D. Coster 7 MO
Lucy E. Coster 4 MO
Lewis W. Coster 3 MO
Josephine Coster 1 MO
1870 U.S. Federal Census Missouri Lincoln Bedford
Koster, Joseph 66 Male White Cabinet Maker 400 200 Hanover
, Sally 35 keeping house Virginia
, Lucy 13 F MO
, Lewis 11 M MO
, Josephine 9 F MO
, Barney 7 M MO
, Malinda 5 F MO
Name: Joseph Kuster Age in 1870: 66 Estimated Birth Year: 1803 Birthplace: Hannover / Hanover Home in 1870: Bedford, Lincoln, Missouri Gender: Male Value of real estate: View Image Post Office: Cuivre Roll: M593_788 Page: 12 Image: 25 Year: 1870
---
File contributed for use on USGenWeb/MOGenWeb Lincoln County Heritage Page by Linda Peronto, Brenda Coon, 5 December 2004. Link change or update: 5 Mar 2005
USGENWEB NOTICE: In keeping with our policy of providing free genealogical information on the Internet, data may be freely used for personal research and by non-commercial entities, as long as this message remains on all copied material. These electronic pages may NOT be reproduced in any format for profit or presentation by other organization or persons. Persons or organizations desiring to use this material for profit or any form of presentation, must obtain the written consent of the file submitter, or their legal representative, and contact the listed USGenWeb archivist with proof of this consent.
---