File contributed for use on USGenWeb/MOGenWeb Lincoln County Heritage Page by Thomas J. Mudd, 10 March 2002. Link change or update: 16 Mar 2002
---
Diary of Judge Henry Thomas Mudd, written 1875-1890
---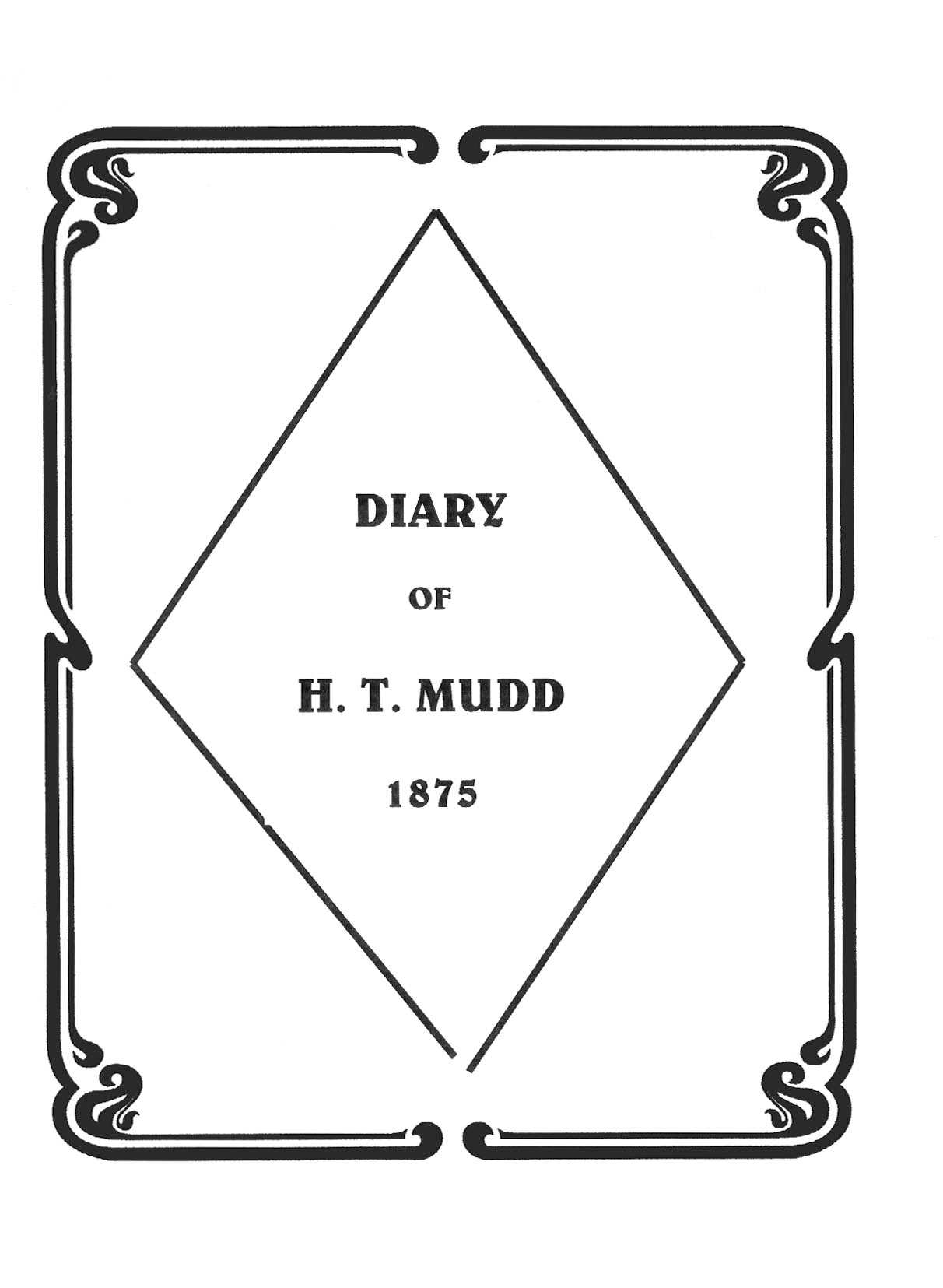 PREFACE
I am, Thomas Joseph Mudd (ADBBA CBA), the great great grandson of Judge Henry Thomas Mudd and his first wife Elizabeth Ellen Dyer through my grandmother, Ellen Lenora Mudd (ABAAA AACE). My wife Margaret Ann Mudd (ABAAA AA1BD) is the great granddaughter of Judge Mudd and his second wife, Mary D. O'Brien.
I have spent the last several months transcribing a handwritten copy of his Diary which he started writing in 1875 and finished a couple of months before his death in 1890. The original diary was passed down to his son Andrew Arthur Mudd, then to his son Henry Thomas Mudd who moved to Colorado with the diary. A grand daughter of his (I do not have her name) presently has the diary. Several years ago she copied the diary and sent the copy to my brother-in-law, Robert Pierce Mudd. From that copy I made several more copies and used one to transcribe the diary into a Word Doc file, which follows.
The store in Millwood that Judge H. T. Mudd built in 1869 ( 1st store built in 1850) still stands at the intersection of Highway D with the St. Alphonsus Road. It is presently used as a residence.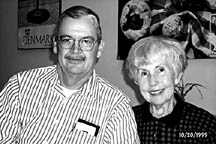 I met my wife, Margaret Ann Mudd in this store in 1961. I had gone hunting at my grandfather, Henry Thomas Mudd's farm with my brother, and cousin James T. Mudd. It was too cold to hunt so we went into Millwood to the store that afternoon for some refreshments. Later this beautiful woman in a mouton coat materialized at the counter. I asked my cousin who she was, and Jim replied, "that is cousin Margaret Ann, don't you know her." I replied "no, but she sure is good looking". I later found out that she rode back from St. Louis on weekends with Dodge Eubanks, the owner of the store, and was waiting for her brother to pick her up to take her down to her Dad's farm. Well a couple of weeks later we were back hunting at Grandpa's and again wound up back at the store for refreshments. Jim was kidding me about Margaret Ann, which Dodge Eubanks overheard. He said she was home and he would give her a call for me. I said "no don't do that" being a shy kind of guy. He called her and put me on the phone, I said "Hi Margaret Ann, I am Tom Mudd," where upon the phone went clunk and there was silence for a couple of minutes, when she came back and said "Are you Tommie Mudd whose wife is Cele", I said "no that is my uncle Tom, my dad is DeSales Mudd" which seemed to please her, and we arranged a date down in St. Louis. Later when we were engaged, I asked her what that clunk was about, and she said, "I thought you were old Tommy Mudd" who was my Uncle Tom, who was known to be quite a ladies man, but once she sorted it out with her mother who I was, she came back on the phone, and we got along fine, in fact we have been married 40 years last October.
Thomas J. Mudd
25 February 2002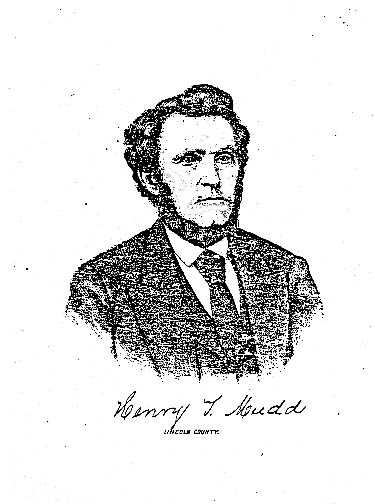 Diary Page 3
Introduction
In this Book or Diary, I propose, now in the 59th year of my age, to write a short history of the origin of our family from the early settlement of Maryland by Lord Baltimore and his colony in 1634 to the present time, as well as some of the incidents of my own life and family, and such other things as I may deem might in after years prove of interest or satisfaction to my children, to whose use and care, more especially dedicate to my son John Pierce, now in the tenth year of his age.
June 12th 1875
Henry T. Mudd
Diary Page 5
Index Diary Page No.
Origin and genealogy of the Mudd family

8

The Dyer family

12

Short account of my Fathers family

15

Of my own life up; to second Marriage

17

From Second Marriage to present time 1875

and of the O'Brien family

22

History of the Church at Millwood

27

Orchard planted in 1875

33

Old orchard planted 1857

34

Cattle, Hogs & Chickens

35

Orphans

38

Miscellaneous matters Hog cholera etc. from pages

40 to 47

Contract for building Church

48

Remark about Church size etc.

50

Copy of Patent to old homestead

52

Copy of my Great Grand Fathers Will

58

Copy of my Grand Fathers Will

64

Church finished

67

Longevity, Death of Mr. Flynn etc.

68

County Bonds

71

James Theodore at College

75

Published letter on Lincoln County bonds

76 & 78

Communications from Surety bond payer

83 to 91

Stock Sales

92 & 93

Trip to Louisiana and Hessian fly

95

Article on County Fair

98

The burning of Edwin's house

99
Diary Page 6

Continuation of Index

Diary Page No.
| | |
| --- | --- |
| Short article on taking stock in county fair | 100 |
| Obituary on the death of Capt. Wommack | 104 & 105 |
| Article written on the death of Doct. Hutt and Sister Dominic written by myself | 106 |
| My trip with Pierce over the County | 108 to 123 |
| Coln. Hutts letter from State Senate | 124 |
| Shep and Pup – The two little dogs | 126 |
| The County bond question, published letter | 128 |
| Old time in Lincoln County, published letter | 134 |
| Old times, Trip to St. Louis, published letter | 140 |
| Another trip to St. Louis, published letter | 146 |
| Business outlook at the close of 1881 | 151 |
| Letter from Mr. A.L. Buchanan | 152 |
| Letter from Champ Clark | 154 |
| Letter from Hon. Will I Knott | 155 |
| My own letter – Trip to Hannibal | 156 |
| R. H. Norton recommended for Congress | 157 |
| Letter to Mrs. Doctor Hodgen | 157 |
| Trip to Louisville, Wheat crop, Fertilization etc. | 159 |
| Old settlers meeting & Letters to & from Hon. C.E. Peers | 164 |
| Letter & reply from Hon. C.E. Peers | 167 |
| Article written on Resolutions at Meeting at Elsberry | 168 |
| Letters to and from Judge A.H. Buckner | 169 |
| Five published letters – trip to several places | 174 |
| Three published letters | 186 |
| Two letters to Judge Martin | 190 & 191 |
| A famous fox hunt | 192 |
| Obituary on the death of Judge Martin | 193 |
Diary Page 7
Continuation of Index

Diary Page No.
Families in the Congregation named Mudd

196

Letter to sister Ann

200

Eldest man of the congregation

202

Obituary etc. etc.

204

Obituary of Henry Thomas Mudd

215-216

APPENDIX

Following

Page 216

1904 Map of Lincoln County showing St. Louis Hannibal RR

1898 Atlas Millwood Missouri

Pictures

History of (Judge) Henry Thomas Mudd
Diary Page 8

Origin and genealogy of the Mudd family

Lord Baltimore landed on the Potomac River with about 200 Catholic Colonists in the year 1634. Amongst whom there were three brothers by the name of Mudd, two of whom from best tradition never married. But from the other brother who married and raised a family has sprung the entire family and name of Mudd now living in America.

The given name of the married brother is not known to the writer nor anything definite of his history or family from the time of his settlement in 1634 and subsequent marriage until the 1680 a period of about 50 years, when to Thomas Mudd his son was patented a tract of some 650 acres of land laid out and surveyed by him as a reservation made by one Major William Boarman, whose daughter Thomas had married, which tract was name in the patent and has ever been known since as Boarmans reserve.

This tract of land lies on what is known as Zekiah Swamp in Charles County, Maryland, about equal distance between the Potomac and Patuxent Rivers, and to which some subsequent additions were made by purchase from adjoining tracts called Hickory Thicket and Devils Nest.

Diary Page 9

The old Patent of Henrys to the original tract (Boarmans Reserve) bearing date the 10th October 1686, two hundred years back is still in a good state of preservation.

Under the old English law, then in existence and still continued to exist down to the time of my Father, Theodore, the eldest made child by right of inheritance, the homestead of his Father, thus Henry, the eldest son of Thomas held the land at his Fathers death, 2nd Henry Thomas the eldest son of Henry held at his Fathers death and Henry the eldest son of Henry Thomas held at his Fathers death, and Theodore "My Father" the son of Henry held at his Fathers death1.

The Statutes were then very properly and rightfully changed, cutting off and abolishing the right of inheritance to the eldest son, otherwise, I should have

inherited the land, I being the eldest son of Theodore (my Father).

Henry Thomas, my great Grand Father after whom I am named built on this tract a good dwelling house of some eight or ten rooms about the year 1740 which I will remember in its dilapidated condition in my early childhood being occupied at that time by my Fathers overseer. My Grand Father
---
1

Actually Judge H.T. was confused and should descend like this; 1st Thomas 1647-1697, 2nd Henry 1685-1736, 3rd Thomas 1707-1760, 4th Henry 1730-1810, 5th Henry Thomas 1756-1810, 6th Theodore 1785-1864, 7th Henry Thomas 1816-1890)

Diary Page 10

Henry had at a subsequent time built another dwelling house on the place, which is at present occupied by my brother Sylvester, in which all my Fathers children were born.

There being no Church building in the neighborhood at this time, my great Grandfather Henry Thomas had a small chapel erected at his house, with the necessary vestments, where Mass for a number of years were celebrated for convenience of his family and other Catholic people around.

He in consequence was familiarly called Priest Henry and was known not only as a leading man amongst his neighbors, but a man of rare Christian piety and zeal in behalf of the Church.

I have thus given a short history of the genealogy of our family on my Fathers side as far back as my Great, Great, Grand Father Thomas to whom the original Patent was granted in 1686 which is the sixth generation. All of whom were men of fair estate and from tradition bore the character of good sensible Christian men, of fair education and much respected by the people with whom they lived.

My Father was for many years, Coln. of the Maryland Militia, Judge of his District Court, and Representative in the Maryland Legislature and was much respected as an honest man.

Diary Page 11

He owned the original estate with its acquisitions of some 900 acres, and about 20 slaves, most of whom were emancipated by proclamation of Abraham Lincoln when President of the United States.

He died at the house of Doctor Hilary P. Mudd1; his son in law in the year 1869, in the 84th year of his age, and a tombstone is erected by myself over his grave in the Catholic grave yard at Millwood.

Of my female ancestors on my Fathers side I know but little. My great grand Mother, the wife of Henry Thomas was a Miss Stansbury, and my grand mother, the wife of Henry was a Miss Mahoney, the daughter of Basil Mahoney of Ireland, who married a Miss Spalding of Maryland.
---
1

Hilary Pius Mudd, ABAGAB, married the sister of Henry T, Mudd, Clarissa Mudd, ABAAAAI. He was first cousin to Judge H.T. Mudd

Diary Page 12

The

Dyer Family

After the short history I have given of our family on my Fathers side, I hope it may be none the less interesting to my son John Pierce and to the rest of my children to know a little more of the history of (my Mother) their grand Mother.

In the short account I shall give of my grand Father Jeremiah Dyer and his family it may not prove uninteresting to those who may hereafter read it, that I speak also in this connection of his twin brother Giles, my great uncle.

My grand Father Dyer, married Miss Adeline Smith, my grand Mother and his twin brother Giles married her Sister (Susanna) whose given name, I do not remember, both marrying at the same time, and having just about equal amount of the worlds goods to begin on, each having a good farm a few miles distant, my grand Father in Charles and Uncle Giles just across the line in Prince George County Md.

I can very distinctly remember the two old gentlemen in their later days, both living to about the good old age of four score and five. In size, habits, manners and appearance, so nearly alike that persons not intimately acquainted with them, could scarcely determine one from the other.

Diary Page 13

And what is quite remarkable in the

history of these two good old gentleman is that each one had born to them twelve children, each six sons and six daughters, each and every one of the twenty four growing up to mans and womans estate, and twenty one out of the number marrying reasonably young, all of good size, a little above the average and highly respectable in appearance and intelligence.

Each of the old gentlemen making and saving about equal amount of property through life, and giving to their children about an equal amount as a marriage portion as they would marry off, and in their old days had about an equal amount in land and slaves to be distributed to their children at their death.

My grand Mother living a very few years longer than my grand Father. And my uncle Giles wife, dying a very few years before himself.

The remarkable longevity of these good old people, as well as many others of our ancestors, is no doubt owing in a great degree to their plainer habits and diet, and the simplicity and purity of their lives in general, and although abounding in plenty, it was not of that character in richness of diet so much in vogue in later years.

Diary Page 14

And another obvious reason in my opinion is that our old Mothers and grand Mothers did not injure their health by tight lacing, tight shoes, Grecian bends, chignons and such other things, and as my little history of these people shows, could generally raise a dozen children and enjoy many years of happiness and health in after life.

My Mother Dorothy was the youngest and last of the six daughters of my Grand Father to get married, and died at the old homestead in Charles County, five years before my Father, in the 68th year of her life, after spending an active life in the affairs and cares of this world, and also an active zealous Christian through life, and died with true Christian resignation, a most edifying death and is buried and a tombstone erected to her memory at the Catholic grave yard at St. Ignatius Church near the old homestead.
---
File contributed for use on USGenWeb/MOGenWeb Lincoln County Heritage Page by Thomas J. Mudd, 10 March 2002. Link change or update: 16 Mar 2002
USGENWEB NOTICE: In keeping with our policy of providing free genealogical information on the Internet, data may be freely used for personal research and by non-commercial entities, as long as this message remains on all copied material. These electronic pages may NOT be reproduced in any format for profit or presentation by other organization or persons. Persons or organizations desiring to use this material for profit or any form of presentation, must obtain the written consent of the file submitter, or their legal representative, and contact the listed USGenWeb archivist with proof of this consent.
---