File and photo for use on USGenWeb/MOGenWeb Lincoln County Heritage Page courtesy of Patricia SummersSmith, 12 August 1998. Link change or update: 02 Sep 1999
---
Families of Lincoln County, Missouri
Family of James Haddock Yates (c1889)
Original photo from collection of Patricia Dawkins SummersSmith, compiler of the information for this page, 1998.
---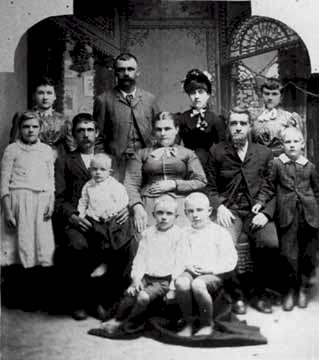 Family of James Haddock Yates (c1889)
Lived in Lincoln County c1883-c1916
Standing in back row, left to right: Eliza Sophronia, Otto Martillus,
Phoebe Louella "Lou", Lucretia "Cretia".
Middle row: Lettia Ada, Joseph Thomas DIXON (husband of Cora), Cora Belle,
James Haddock YATES, and Arthur Newton.
Children of Cora Belle and Joe DIXON in front: Claud (baby on Joe's lap), Ernest, and Ben.
All children are present in the photo except son Thomas Samuel YATES.
(Photo about 1889, three years following the death of his 2nd wife Emeline STRAUBE.)

James Haddock YATES was born 20 Oct. 1838, Shelby Co., KY. He was a son of Samuel F. YATES and Elenor WELLS, and moved with his family to Missouri in 1851. He married (1) Mary Ann FREEMAN, 20 Dec. 1857 in Audrain Co., MO. The Civil War proved to be too great a strain on his first marriage which broke up either during or following the war. He married (2) Emeline STRAUBE, 16 Nov. 1865 in Montgomery Co., MO. The family lived in Lincoln Co. from about 1883 to 1916. He died 4 Nov. 1917 in Pike Co., MO, and is buried with 2nd wife in Winfield Cemetery, Lincoln Co., MO.
Children from marriage (1): Thomas Samuel YATES and Cora Belle (YATES) DIXON.
Children from marriage (2): Phoebe LouEllen "Lou" (YATES) SITTON, Martillis Otto YATES, Eliza Sophronia (YATES) DAWKINS, Lucretia "Cretia" (YATES) DRYDEN, Lettia Ada (YATES) COX, Arthur Newton YATES, and Charles Robert YATES.
Excerpt from "James Haddock YATES . . . a Confederate Private in the Civil War," by Patricia Dawkins SummersSmith: "Young James Haddock YATES was among the first Missourians to take an active role when the Civil War reached Missouri. He was 23 years of age when trains with Union troops began arriving in Missouri in July 1861, and on July 20, 1861, Missouri ruled under martial law for the next three years without a free election or a vote except from those deemed 'loyal' by a non-elected provisional government. Ten days after martial law was declared, the Missouri State Guard officially organized 30 Jul 1861. James joined Bruce's Regiment in the Missouri State Guard, serving in Co. G, and he was probably with that regiment when he fought his first battle of record for the Confederate cause at Lexington MO in 12-20 September 1861. The Confederates won an overwhelmingly victorious battle against the Union troops. On November 25, 1861, General Price told his men that the Confederate government would receive into service as many troops from Missouri as would volunteer to serve twelve months. So, on the Sac River in St. Clair Co., 9 Dec 1861, James enlisted in the Confederate Army under General Sterling Price as a private and agreed to serve twelve months. Before the war was over, that twelve months had extended into more than three years. He is recorded as serving from 9 September 1861 to 25 November 1864 in Co. B, 1st Missouri Infantry, latterly known as Co. B, 2nd Missouri Infantry. His name then later appears on the Historic Roll of Co. B., 2 Reg't Missouri Infantry, dated 28 Feb 1865."
(See also Obituaries for James Haddock YATES, and Obituary for Mrs. J. H. YATES.)
---
File and photo for use on USGenWeb/MOGenWeb Lincoln County Heritage Page courtesy of Patricia SummersSmith, 12 August 1998.
USGENWEB NOTICE: In keeping with our policy of providing free genealogical information on the Internet, data may be freely used for personal research and by non-commercial entities, as long as this message remains on all copied material. These electronic pages may NOT be reproduced in any format for profit or presentation by other organization or persons. Persons or organizations desiring to use this material for profit or any form of presentation, must obtain the written consent of the file submitter, or their legal representative, and contact the listed USGenWeb archivist with proof of this consent.
---
Return to USGW/MOGW Lincoln County, Missouri:
Photo Album Index | Heritage Page | Home Page