File and photo for use on USGenWeb/MOGenWeb Lincoln County Heritage Page courtesy of Patricia SummersSmith, 12 August 1998. Link change or update: 02 Sep 1999
---
Families of Lincoln County, Missouri
Family of William Thomas Sitton (c1910)
Original photo from collection of Patricia Dawkins SummersSmith, compiler of information, 1998.
---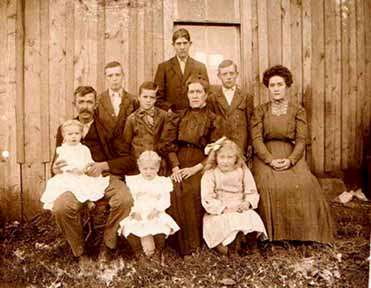 Family of William Thomas Sitton (c1910)
Left to right -- Children in front row: Iva L., Alta Belle, Collie L.
Middle row: Walter Thomas, James Walter (Walter James), Oliver, Phoebe Louella "Lou" (YATES),
William Roy, and Sarah Madeline.
Back row: (tallest boy) Clarence Lafayette.

William Thomas Sitton died on 17 April 1911, shortly after this photo was taken.
William Thomas SITTON was born 27 Dec. 1862 and died 17 Apr. 1911. He married Phoebe LouEllen "Lou" YATES (daughter of James Haddock YATES and Emeline STRAUBE) 9 Dec. 1891 in Lincoln Co., MO. She was born 29 Nov. 1868, Montgomery Co., MO, and died 12 July 1946, St. Louis, MO. Both buried in Winfield Cemetery, Winfield, Lincoln Co., MO.
Children: Sarah Madeline "Mattie", Clarence Lafayette, James Walter, William Roy, Oliver Lloyd, Collie Lorene, Alta Belle, and Iva Lou.

(See also The James Haddock Yates Family Photograph - c1889)
---
File and photo for use on USGenWeb/MOGenWeb Lincoln County Heritage Page courtesy of Patricia SummersSmith, 12 August 1998.
USGENWEB NOTICE: In keeping with our policy of providing free genealogical information on the Internet, data may be freely used for personal research and by non-commercial entities, as long as this message remains on all copied material. These electronic pages may NOT be reproduced in any format for profit or presentation by other organization or persons. Persons or organizations desiring to use this material for profit or any form of presentation, must obtain the written consent of the file submitter, or their legal representative, and contact the listed USGenWeb archivist with proof of this consent.
---
Return to USGW/MOGW Lincoln County, Missouri:
Photo Album Index | Heritage Page | Home Page