This file and photo for use on USGenWeb/MOGenWeb Lincoln County Heritage Page courtesy of June Groshong, 3 Oct 2004. Link change or update: 23 Feb 2005
---
Families of Lincoln County, Missouri
One Family - 346-1/2 Years - Belle Jackson, Will, Joe, and John LaRue
From the collection of June Groshong.
---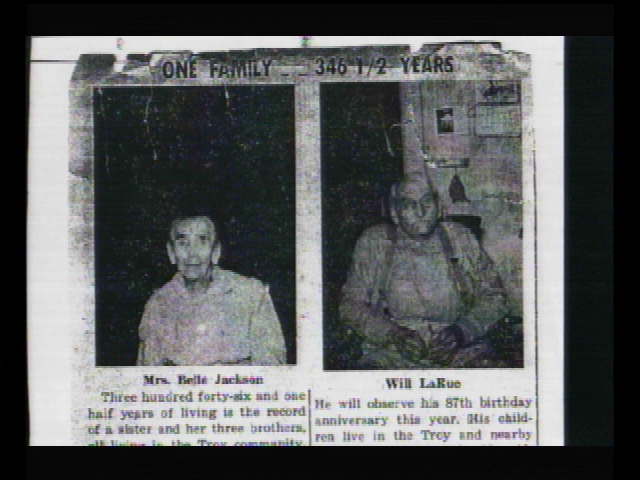 Belle Jackson and brother, Will LaRue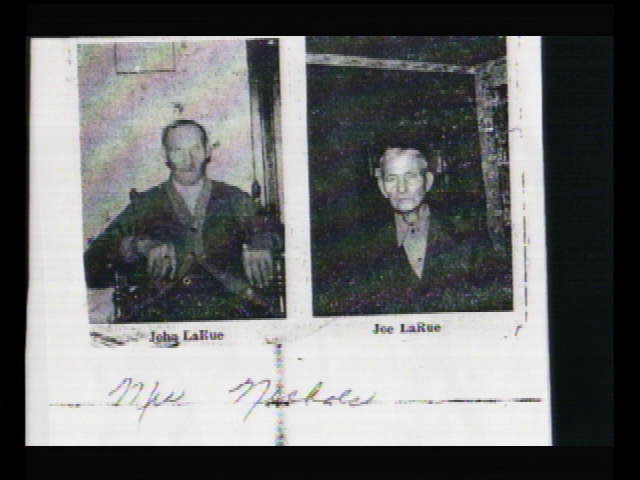 John and Joe LaRue
[Probably from the Troy Free Press:]
Three hundred forty-six and one half years of living is the record of a sister and her three brothers, all living in the Troy community. They range in age from 83 to 91 1/2 years, and have an average age of 86 1/2 years. All were born and grew to maturity in this community.
Pictured here is Mrs. Belle JACKSON, of Troy, and her three brothers, Will LARUE and Joe LARUE who live in the city of Troy, and John LARUE, who lives east of Troy on Highway 47 near New Galilee Church. A sister, Mrs. Dick TURNBULL, and a brother, Alex LARUE died several years ago.
Mrs. JACKSON, the oldest of the surviving children of the late Mr. & Mrs. Charles LARUE, will observe her 92nd birthday anniversary on August 4th, having been born 1861. She now makes her home with her daughter, Mrs. J. E. FISHER, of near Troy. She has two other children living; James Roy JACKSON, of Wentzville, and Robert JACKSON, with one son, Charles JACKSON, passing away a few years ago.
Will LARUE, better known to his children and friends on Bonfils Street as Grandpa LaRue, is next in age, having been born Apr. 28, 1866. He will observe his 87th birthday anniversary this year. His children live in the Troy and nearby communities and include: Mrs. Allie JAMESON and Mrs. Parren BOYCE of Troy; Mrs. Riggs HUMPHREY, of near Silex; Mrs. Delbert MARLING, of Elsberry and Raymond LARUE, of Eolia. He lives alone, his wife having died last year.
John LARUE, who with Mrs. LARUE lives in the New Galilee community, was born April 17, 1868, and will celebrate his 85th birthday anniversary at that time. He had two sons, C. R. LARUE and Alva LARUE, of Winfield.
The youngest of the four is Joe LARUE, who with Mrs. LARUE lives in Troy. Born February 8, 1870, he observered his 83rd birthday last Sunday. Two of his children, Mrs. John DOWELL and Charles LARUE, live in Troy, while another daughter, Mrs. Otto BOHMER, lives at Foley.
The editor enjoyed a visit with each of them while taking their pictures last Friday and was happy to find them all in good health. We are hoping that they enjoy many more years of health and happiness.
[Transcriber's Note: My mom used to talk of Mr. Will LaRue and how they all lived in the Cuvre River State Park area before it was ever a park. She spoke of the meeting at the sugar Creek Methodist Church etc. I knew Mr. Raymond LaRue and he has a daughter and granddaughters living in Troy, Mo. even now 2004 as well as are many LaRue descendants in and around Troy, Mo. j.g. ]
---
File and photo for use on USGenWeb/MOGenWeb Lincoln County page courtesy of June Groshong, 3 Oct 2005.
USGENWEB NOTICE: In keeping with our policy of providing free genealogical information on the Internet, data may be freely used for personal research and by non-commercial entities, as long as this message remains on all copied material. These electronic pages may NOT be reproduced in any format for profit or presentation by other organization or persons. Persons or organizations desiring to use this material for profit or any form of presentation, must obtain the written consent of the file submitter, or their legal representative, and contact the listed USGenWeb archivist with proof of this consent.
---
Return to USGW/MOGW Lincoln County, Missouri:
Photo Album Index | Heritage Page | Home Page