This file and photo for use on USGenWeb/MOGenWeb Lincoln County Heritage Page courtesy of Patricia SummersSmith, 12 August 1998. Link change or update: 02 Sep 1999
---
Families of Lincoln County, Missouri
Frank D. and Angeline (Dorsey/Dawkins) Hardesty (c1888)
Original photo in collection of Mildred Ricks. Copy in the collection of Patricia Dawkins SummersSmith, information compiler for this page, 1998.
---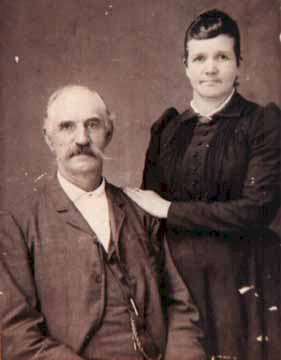 Frank D. Hardesty and Angeline (Dorsey) Dawkins
(photo probably about 1888)
Photo by R. W. Pennelle in Troy MO.
Lived in Lincoln County, Missouri 1850/51-c1916
Frank HARDESTY was born 8 Nov. 1830, Bourbon Co., KY, and died 3 Aug. 1916, Lincoln Co., MO. He married (1) Mary M. OVERALL, 12 Oct. 1852. She died 15 Nov. 1886, and he married (2) Angeline DORSEY/DAWKINS, in Feb. 1887 or 1888. (Available records provide conflicting information.) No children from either marriage. He is buried with his 1st wife in Overall Cemetery, Lincoln Co., MO.
Angeline (DORSEY/DAWKINS) was born 10 Oct. 1841, Hardin Co., KY, and died 26 October 1924, Apache Co., OK. She is buried with 1st husband in New Salem Cemetery. She married (1) George Washington DAWKINS, May 1863 in Lincoln Co., MO, and (2) Frank D. HARDESTY. Children from her marriage (1): William Jackson DAWKINS, Mary Louretta "Molly" (DAWKINS) IVES, Wallace Washington DAWKINS.

(See also Obituary of F. D. Hardesty and Obituary of Angeline "Ann Hardesty")
---
File and photo for use on USGenWeb/MOGenWeb Lincoln County page courtesy of Patricia SummersSmith, 12 August 1998.
USGENWEB NOTICE: In keeping with our policy of providing free genealogical information on the Internet, data may be freely used for personal research and by non-commercial entities, as long as this message remains on all copied material. These electronic pages may NOT be reproduced in any format for profit or presentation by other organization or persons. Persons or organizations desiring to use this material for profit or any form of presentation, must obtain the written consent of the file submitter, or their legal representative, and contact the listed USGenWeb archivist with proof of this consent.
---
Return to USGW/MOGW Lincoln County, Missouri:
Photo Album Index | Heritage Page | Home Page