Photos and file for use on USGenWeb/MOGenWeb Lincoln County Heritage Page courtesy of Russell M. Reid, 24 October 1998. Link change or update: 02 Sep 1999
---
Families from Lincoln County, Missouri
Littleton Thomas Dryden and Jane A. Shannon
and their daughters Elizabeth Ellen "Ella" Dryden Massie
and Mary Jane Dryden
Compiled and written by Russell M. Reid, 1998
---
| | |
| --- | --- |
| | |
| Littleton T. Dryden | Jane A. Shannon |
---
Littleton Thomas Dryden was born on May 9, 1829 in Maryland to Littleton Dryden and Eleanor Parsons Johnson. In 1836 he accompanied his parents and older siblings to Missouri where they soon settled in that part of Lincoln County that was later named Brussels. On April 9, 1856 he married Jane A. Shannon, also of Lincoln County. Jane was born February 13 1837 to James Shannon and Elizabeth Alexander. It is interesting to note that after the death of Jane's mother, her father then married Julia Ann Dryden (the former Mrs. James Alexander), Jane's husband's eldest sister.
The Drydens had two daughters, Mary Jane Dryden and Elizabeth Ellen Dryden. I believe that both were born in Lincoln County. Mary Jane lived from April 1, 1859 to November 5, 1879. She did not marry or have children.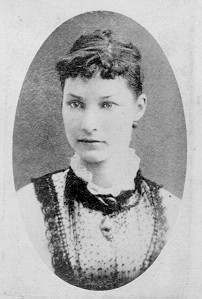 Mary Jane Dryden
1859-1879
Elizabeth Ellen or "Ella" lived from May 9, 1857 until to October 13, 1906. She married James Massie, and they had one daughter, Leona Massie, born in 1888.

| | |
| --- | --- |
| | |
| James Massie | Ella Dryden Massie |
---
Sometime in the second half of the 19th Century Littleton T. and Jane A. Dryden migrated to California and settled near the town of Redding. Other relatives also migrated West from Lincoln County, including Jane's brother John S. Shannon who sent back a letter to his cousins in Lincoln County in May of 1863, when his wagon train stopped at Ft. Laramie.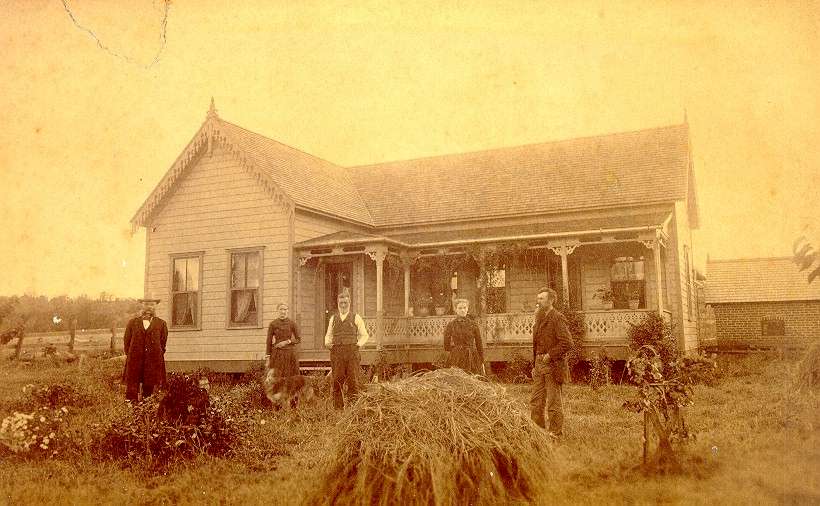 Dryden home near Redding, California, 1890's
The man on left is unknown. Others (l. to r.) are Jane A. Shannon Dryden, Littleton T. Dryden, Ella Dryden Massie, and James Massie
---
Littleton T. Dryden died in California on April 21 1900. Though separated from her relatives in Missouri, Jane maintained an active correspondence with her cousin Elizabeth Shannon (Mrs. Tom Reid) (see their obituaries) (see their family Bible records) of Lincoln County. Cards and letters from Jane in the last decade of her life still survive. In the Fall of 1903 Elizabeth and her husband Tom Reid along with their son, Salem Shannon Reid and niece, Adaline "Addie" Reid, visited the Drydens in Redding while on a train trip of the West. Salem, then twelve years old, kept an account of the trip which still survives along with his mothers notes on the trip. Three years later, Ella Massie and her daughter Leona visited their relatives in Missouri and accompanied Tom and Elizabeth Reid and others on a trip to Wisconsin.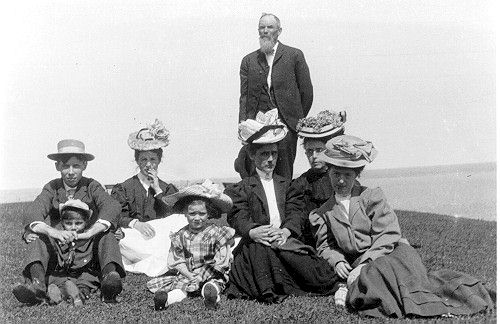 Ella Dryden on a visit with relatives from Lincoln Co.
Standing in the back is Tom Reid. Seated (l. to r.) Salem Reid, Mattie Reid, Ella Dryden Massie, Addie Nalley Shannon, and Addie Reid. Younger children are Ralph Reid (son of Mattie) and Leona Massie.
---
Ella died the month after this visit to Lincoln County and Jane Dryden was left without family in California. Her letters to her cousin Lizzy Reid often spoke of missing her Lincoln County relatives. She died August 5, 1912 in Pomona, California. (See her obituary)
---
Photo and file for use on USGenWeb/MOGenWeb Lincoln County Heritage Page courtesy of Russell M. Reid, 24 October 1998. Link change or update: 02 Sep 1999
USGENWEB NOTICE: In keeping with our policy of providing free genealogical information on the Internet, data may be freely used for personal research and by non-commercial entities, as long as this message remains on all copied material. These electronic pages may NOT be reproduced in any format for profit or presentation by other organization or persons. Persons or organizations desiring to use this material for profit or any form of presentation, must obtain the written consent of the file submitter, or their legal representative, and contact the listed USGenWeb archivist with proof of this consent.
---
Return to USGW/MOGW Lincoln County, Missouri:
Photo Album Index | Heritage Page | Home Page